News
ILR School's Thomas P. Golden Courtyard Honors Beloved Colleague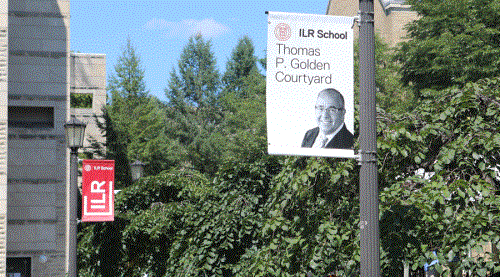 ILR School's "Courtyard Commemorates Beloved Leader" highlights the dedication of the Thomas P. Golden Courtyard on September 20th.

Golden, executive director of the K. Lisa Yang and Hock E. Tan Institute of Employment and Disability Institute, died on Nov. 1, 2020, at age 57. As an institute leader for 29 years, he oversaw dozens of initiatives that have improved access to work for adults and teens with disabilities. In a memory book created by the Yang-Tan Institute, colleagues remember Golden's brilliance, heart, hilarious hijinks and many interests.

"Thomas had a profound impact on state, federal and international policy and practice, and on disability professionals around the world, Cornell teammates, students and the countless individuals with whom he shared his enormous energy, warmth and joy for life," said Ariel Avgar, Ph.D. '08, ILR's David M. Cohen Professor and senior associate dean for Outreach and sponsored research.

"In recognition of Thomas's passion for gardening and outside spaces, Lisa Yang has provided generous support to recreate ILR's upper courtyard in honor of Thomas's transformative and enduring impact on the Yang-Tan Institute," Avgar said.