About
Executive Roundtables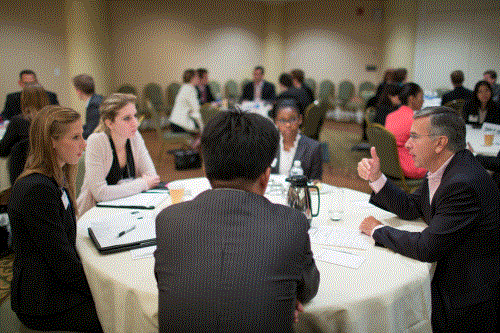 One unique and valuable aspect of the CAHRS partnership is the opportunity for CAHRS executives to interact with future HR professionals pursuing their graduate studies or finishing their undergraduate studies at Cornell, to shape their educational and career choices. Since 1997, CAHRS has offered our partners an opportunity to be involved in the annual orientation held for incoming and returning graduate students and undergraduate seniors in the School of Industrial and Labor Relations (ILR). The CAHRS Executive Roundtable is not a recruiting fair, but is meant to provide students and executives an opportunity to exchange questions and ideas about the field of HR, the most important issues facing individual companies, the skills needed by future HR professionals, and what companies look for in recruiting entry-level professionals. Due to limitations and the popularity of this event among our partner representatives, we will be limiting the number of executives involved in this event to 20.
Details
This event will provide an opportunity to meet and exchange questions and ideas with executives from very prominent companies and first and second-year graduate students and seniors from Cornell University's School of Industrial and Labor Relations.
More Information
If you are interested in participating in this highly popular, interactive event, HR executives from our corporate partners are encouraged to contact us early as table reservations are collected in June. Students will receive announcements about this event, and are encouraged to RSVP.
The next CAHRS Executive Roundtables will be held on September 15, 2023.
For more details on this event or to reserve a spot, please email Jo Hagin at jap7@cornell.edu or phone 607-255-9358.